Hi, my name is Dane Oliver and I am a member of Boy Scout Troop 104 in Lakeland, FL. I am working on my Eagle Scout project and would appreciate your support.
My Eagle Project will be to build a teen gathering area around a fire pit, including a path from the house and pavilion, for LoBo Ranch. The LoBo Ranch is a 501(c)(3) non-profit organization of child advocates who combine their unique gifts and talents to serve children in foster care. A design is shown below depicting the paths and gathering area around the fire pit.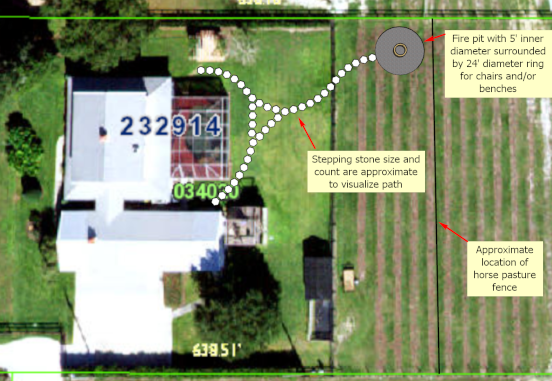 I am soliciting for sponsors to help fund this project. If you are able and inclined to contribute to this project then please click on the DONATE button which will take you to a PayPal page donated by Turn and Burn Metalworks, LLC, where you can contribute. If you prefer to use a payment method other than PayPal then please contact me via email at donate@dane4eagle.org and I'll work with you. All contributions will be made public, for transparency, unless you specifically ask to be kept anonymous via email to donate@dane4eagle.org. If you are a corporate sponsor and would like me to link to your business then please specify such to me via email.
Thanks for your support!